Wheelchair Lifts for Sale in North Carolina and South Carolina
You will find a great selection of wheelchair lifts for sale at Ilderton Vans. The installation process will be seamless with the trained team of specialist to get the lift perfectly into your van. 
Your Trusted Wheelchair Lift Instillation Company 
Ilderton Vans can handle all of your wheelchair lift needs. There is a great selection of converted vehicles. You can browse the options until you find exactly what you are looking for. Every wheelchair lift comes with unique needs and the team at Ilderton Vans is there to make sure everything is precisely how it should be. With new and pre-owned vehicle options, there will be something to make mobility an option for everyone.
 If you do not need an entire new vehicle, but instead need parts or service for a wheelchair lift, there is a staff of trained technicians ready to help. All of the conversions are done by certified staff members and with high-quality parts. If you do not yet know exactly what it is you need, you can come in with questions and someone will be happy to sit down with you under you understand what the best options for you are. 
Approved by the Veterans Administration and being an authorized BraunAbility dealer, you know you are working with a team that has all of the answers you are looking for. 
What Sets Ilderton Vans Apart? 
With the buying or installing of wheelchair lifts, there are a lot of pieces to manage to make sure everything is how you need it to be. Ilderton sets itself apart from other conversion companies because your satisfaction is a priority from the very first time you make contact onward. With over 38 years of experience, the Ilderton Team knows these products, installations and vehicles inside and out. Your expectations are sure to be exceeded from the moment you begin your search.
Bruno Curb-Sider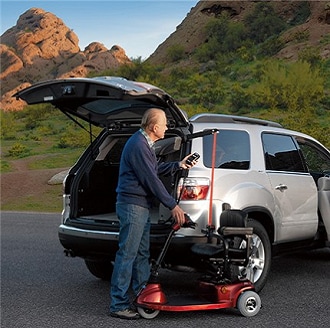 Bruno's compact Curb-Sider scooter and powerchair lift offers maximum power with minimum effort -- making it Bruno's most popular hoist-style lift. The highly versatile Curb-Sider easily lifts and stows both standard and heavy-duty scooters and powerchairs weighing up to 400 lbs in most vehicles.

 Bruno Joey Lift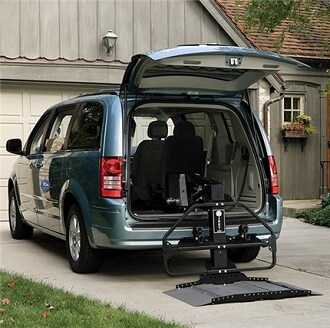 The Bruno Joey Lift allows you to drive your mobility device onto the platform, press a button and it will easily tuck it away into your mini-van.
 Bruno Out-Sider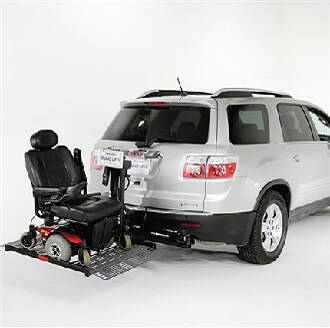 The Bruno Out-Sider lifts and stores an unoccupied wheelchair or scooter at the touch of a button. This lift can be installed in most minivans, SUVs, pickup trucks, full-size vans, and sedans without any structural modifications to the vehicle (mounts to a Class II or III hitch receiver).
 Under Vehicle Lift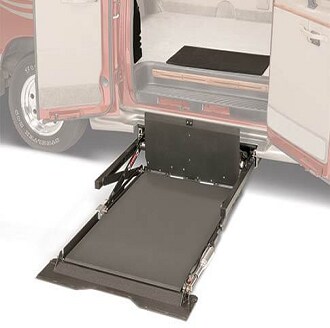 The Under Vehicle Lift® is the wheelchair lift for those who demand the best of everything. With these lifts mounted underneath the vehicle, they remain out of sight and out of your way until needed. That means easy access for ambulatory passengers and cargo, a clear side view for the driver while traveling, and maximum interior space for passengers, something your friends and family will appreciate on every trip.

 Millennium lift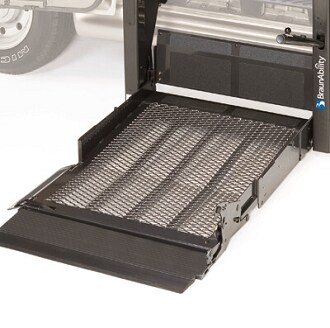 The Millennium wheelchair lift is the true workhorse of the BraunAbility line. Those who appreciate a strong, stable lifting platform and time-tested durability can choose this wheelchair lift series with confidence. Trust the Millennium wheelchair lift to get you there on time, every time.
The Millennium wheelchair lift is fully hydraulic in operation, for both the fold/unfold and up/down cycles. You regulate the lift operation by the standard handheld control, the on-lift controls, or the optional remote control.
 Century Lift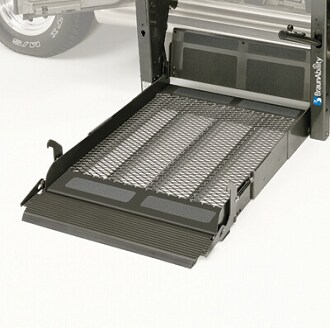 With dual hydraulic lift arms and a design that has withstood the test of time, the Century wheelchair lift offers all of the benefits of a BraunAbility wheelchair lift in a streamlined, economical package. The simplified electrical system offers trouble-free operation, while the non-hydraulic spring-loaded roll stop keeps your chair securely on the wheelchair lift platform throughout the lifting cycle.
The Century wheelchair lift is fully hydraulic in operation, for both the fold/unfold and up/down cycles. Lift operation involves the standard handheld control, the on-lift controls, or the optional remote control.
Bruno Out-Rider Lift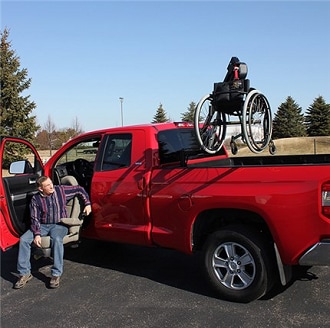 The Bruno Out-Rider Lift was created just for pickup trucks. It can accommodate for mobility devices ranging from 100 lbs to 350 lbs . Simply press the button to lift and rotate your manual wheelchair, scooter or powerchair into the truck bed.