RAM Promaster 1500
More Choices. More Access. More Freedom.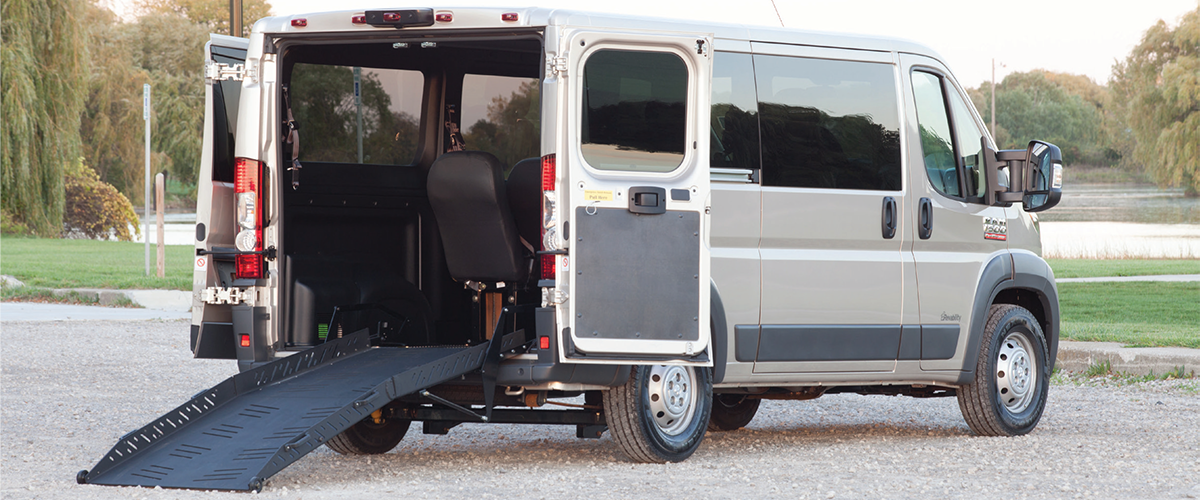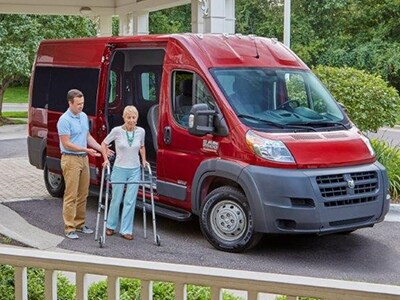 Spacious & Flexible
The ProMaster 1500 offers a spacious 5'4" of interior headroom. The track-mounted seating with 3 point harness can be easily configured for optimum utilization.
Reinforced Safety
Securing wheelchairs, scooters, and cots is safe and simple with our exclusive reinforced L-Track flooring system and available retractable tie-downs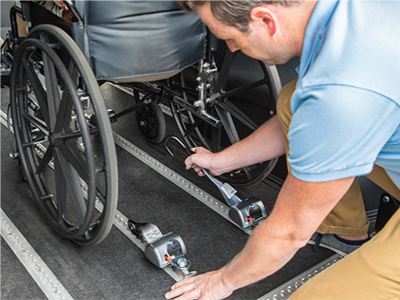 Package Content
OEM Style Interior Trim with added Sound Insulation, LED Lighing, and Rear Heat/Air Conditioning System
3,000+ Pound Useful Payload Capacity
Integrated Wheelchair Shoulder Belts, exclusive L-Track Flooring System featuring High-Density Non-Slip Poly Flooring and Powder Coated Floor Reinforcements
Rear Kneeling Suspension with ADA Compliant 36" Wide, 1,000 lb. Capacity Ramp
An industry best 5 year, 50,000 mile conversion warranty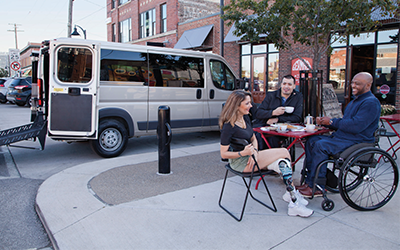 Available Options
1,000 Pound Capacity Rear, or Side Mounted Commercial Platform Lift
42" Wide, 1,000 pound Load Capacity Rear Ramp
Single or Double Fixed Seats with Three-Point Restraints (Flip Seats also available)
Retractable Wheelchair Tie Downs or Removable or Fixed Stryker or Ferno Cot Systems
Driver & Passenger Side Running Boards (Composite or Stainless Steel Wire Mesh)
Electric Wheelchair Winch with Wireless Remote Control
Frequently Asked Questions
Is the RAM ProMaster reliable?
The Ram ProMaster is an extremely reliable van. This van is an all-purpose, heavy-duty work van that comes in a wide variety of body styles and trim levels. You can expect high quality interior features, premium engine design, and excellent towing and payload capacities. The ProMaster is also one of the easiest vans to drive with a tight turning radius and great steering dynamics so you don't have to worry about cutting corners!
What is the difference between a RAM ProMaster 1500 and 2500?
The RAM ProMaster 1500 is the slightly cheaper option with a starting MSRP of $32,995 whereas the RAM ProMaster 2500 sits right at $34,045. These two trims are pretty similar, however, the 2500 has heavy-duty anti-lock four-wheel brakes. The Brake assist is standard, as are a 180-amp alternator, a 95-amp battery, an engine oil cooler, and a power rack.
Which RAM ProMaster trim level is the best?
When you are in the market for a cargo van, which is the best option for you will depend on the type of work you're trying to accomplish with the vehicle. Since there is such a wide variety of option available, you can customize your RAM ProMaster in just about any way you need to. From gas mileage to towing capacity, Ilderton Vans can help you choose the best van for you!
Can you stand up in a RAM ProMaster?
Yes! The Ram ProMaster has multiple configuration options that allow you to stand up in the van. This van is available in four cargo lengths from 8 feet to 13 feet and there are two roof height options to choose between. The regular roof is 66 inches, which is excellent for anyone under 5'5. The taller roof is 76 inches, which is suitable for those under 6'2.
Hours
Monday

8:00AM - 5:30PM

Tuesday

8:00AM - 5:30PM

Wednesday

8:00AM - 5:30PM

Thursday

8:00AM - 5:30PM

Friday

8:00AM - 5:30PM

Saturday

9:00AM - 2:00PM**

Sunday

Closed