Ilderton Conversions is proud to offer Vehicle Protection Plans!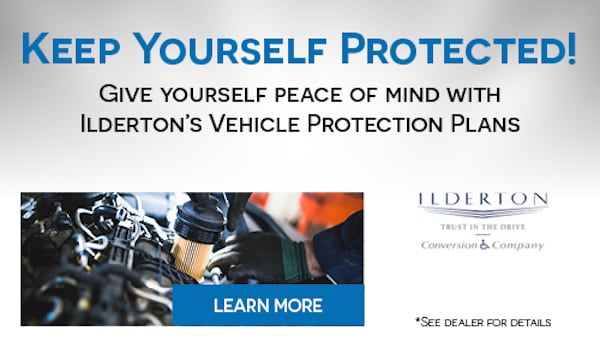 Vehicle Protection Plans
Covers your vehicle and mobility equipment once the manufacturer's warranty has expired.  These plans protect you from unknown equipment failure costs and offer PEACE OF MIND to our customers.  Service protection plan are usually offered at the time when you purchase your vehicle (and can be financed in with your payment) or can be purchased after the sale.   We also offer these plans to our customers who have purchased their vehicle from another dealership. 
Exclusionary (highest level of coverage) to Powertrain only coverage options
Coverage terms for up to 10 years/100,000 miles
Coverage plans for both new and pre-owned vehicles
Coverage for vehicles up to 7 years old/100,000 miles
Coverage BOTH vehicle and mobility equipment
GAP (Guaranteed Asset Protection)
Available to our customers who finance their vehicle and want to be protected in the event of total loss. 
Payable in the event of total loss
Covers the difference (in most cases) between the loan pay-off amount and the insurance payout.
Covers customer's primary insurance deductible up to $1,000
Up to 84 months of coverage available
Road Hazard / Tire /Wheel
Reimbursement protection for damage to your tires and wheels from road hazards such as nails, pot holes and other road debris.
No deductible or hidden fees for tires and includes: mounting, balancing, valve stems, wheels, tax, and labor
Up to $100 reimbursement for flat tire assistance and towing
Up to $35 per day in rental car expense
Cosmetic coverage for alloys, chrome and chrome wheels
Curb damage and Tire Pressure Monitoring System Coverage